There are three buildings in Visavuori

Studio of sculptor Emil Wikström (1864-1942)
Built in 1903-1912 to Wikström's own design
App. 100 of Wikström's sculptures are exhibited there
Winter garden
Organ loft
Observatory
House of sculptor Emil Wikström
Built in 1902 to Wikström's own design
Original furnishing
Kari's Pavilion
Built in 1990 to architect Erkki Helamaa's design
Exhibits cartoons of Kari Suomalainen (1920-1999)
Visiting exhibitions by other artists.
The House and studio of Emil Wikström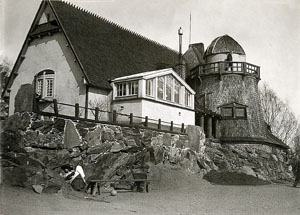 Visavuori was the home and studio of sculptor Emil Wikström from 1894 until his death in 1942. Wikström designed the buildings himself, beginning in 1894 with a combined studio and home. Destroyed by fire in 1896 and rebuilt in 1902 in the national romantic style, this building is the finest example of Karelian architecture in existence. Wikström's home is typical of Nordic artists' homes of the time, constructed from logs and featuring many "art nouveau" details. The contents of the house today are as they were in Wikström's time.
The castle-like studio with its observatory and winter garden was built in two phases between 1903-1912. In the studio almost 100 of Wikström's works are displayed. Visitors can also see how the artist and his family spent their leisure time: playing the organ built by his brother, taking care of the roses in the winter garden or exploring the stars in his own observatory.
Downstairs in the studio, what was once Wikström's bronze foundry, is a café open during summer months, serving a wide variety of homemade refreshments.
The Visavuori foundation was established in 1966. Wikström's children donated all the works of art and the buildings to the foundation and the Visavuori-museum was opened to the public in 1967.
Kari's Pavilion
Emil Wikström's grandson, the celebrated cartoonist Kari Suomalainen, donated most of his drawings and paintings to Visavuori foundation in 1988. Architect Erkki Helamaa designed a new exhibition hall in Visavuori where these drawings could be exhibited. This building was named Kari's Pavilion and was opened in 1990.
The Visavuori foundation has a collection of app. 9000 political cartoons as well as other drawings and paintings by Kari Suomalainen. In the upstairs exhibition hall is an exhibition of Kari's political cartoons featuring a different theme every year.
The downstairs exhibition hall also hosts visiting exhibitions by other artists.